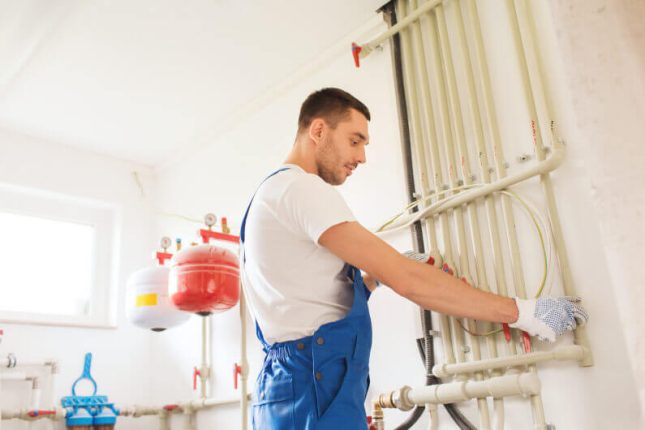 Did you know that most homeowners call a plumber for help at least once every three years? Whether it's installing a plumbing system or replacing old plumbing, some jobs take professionals.
In order to stick to your plumbing project budget, you might try to do the work yourself. But choosing a plumber to do the work has a lot of advantages that might save time and money down the road.
The following guide will explain the top 7 benefits of hiring a residential plumbing service.
1. Advanced Plumbing Knowledge
Choosing a professional plumbing service is a much more reliable solution than doing a job yourself, or hiring a handyman. You get the guarantee that they have the necessary talents and knowledge to finish the job properly the first time.
Plumbers receive advanced education, training, and experience to handle the exact job you have. They specialize in the plumbing problem you're dealing with and they've likely seen it before.
Professional plumbers also have all the necessary tools and materials for any job. You don't have to run back and forth from the hardware store trying to locate parts and tools.
2. Local Reputations
Most homeowners choose established local plumbing services for help. Local companies have a reputation in the community they want to uphold. Plus, online reviews are just as important to modern-day plumbing contractors.
The success of a plumbing company depends on satisfying customers and providing quick service with professional results. If you find a company with good reviews and comments about great pricing and punctuality, it's a good sign.
3. Specialized Insurance
Plumbers have business liability insurance for protection against any worst-case situation. For instance, if you try to complete plumbing repairs yourself and make things worse, you end up paying the extra cost.
Some handyman services offer very low prices and only accept cash payments, but they might not have the insurance to cover damages. Always use a plumbing company with business liability insurance in case an accident occurs.
It's important to note that some states don't require plumbers to have liability insurance. You want to do your research and ask companies ahead of time if they have insurance before making a hire.
4. Guaranteed Work
A lot of trusted plumbing companies deliver guarantees on the work they do and the parts they use on a job. These promises help make sure that if anything goes wrong, the plumber comes back to fix the problem.
Think of it as ongoing customer support from the plumber you choose. In many cases, plumbers honor their work for up to 12 months.
It's important to ask the plumbing company you plan to use about their guarantees upfront. Once you've confirmed that they'll back their work for a certain amount of time, you can rest easy and make your hire.
5. Preventing Future Issues
Plumbers not only fix current issues, but they can help prevent a future plumbing crisis as well. By diagnosing problems early, plumbers stop avoidable damages and save you time and money.
If you don't attend to minor problems, they might grow into problems such as a flooded basement. Instead of putting your home and wallet at risk, consider hiring a plumber for minor repairs and checkups.
For example, if your toilet is running constantly, it might seem like a minor annoyance rather than a big deal. But it can lead to hundreds of wasted gallons of water monthly.
The same goes for leaky faucets, which are one of the most common plumbing issues homeowners run into. It might not seem like you're losing much water, but a drip per second can lead to thousands of gallons of wasted water annually.
6. No Guesswork
No matter how many YouTube tutorial videos you watch, the plumbing world is complicated. Trying to fix a common leak might lead you to a maze of pipes and valves that you know nothing about.
A fast do-it-yourself plumbing fix might solve something like a small leak. However, this may not fix the bigger plumbing issue causing the leak.
As mentioned before, plumbers have tools and abilities that others don't. They can find problems and fix them faster and more efficiently because they know what they're doing.
They might find other issues you could miss and then inspect your whole plumbing system. Finding the root cause of plumbing problems means they won't happen over and over again costing you time and money.
7. Multiple Services
In addition to important repairs, plumbers can handle installations, maintenance, and a wide variety of other services. Examples include installing new pipes, replacing pipes, finding blockages, fixing leaks, and installing new appliances.
Even things like toilet clogs and garbage disposal clogs can get out of hand to the point of needing professional help. Some companies even handle tree root removal to prevent roots from causing havoc on pipes.
Modern appliances cost a lot of money and you don't want to damage them during installation. Think of a plumber installing your new appliances as a way to protect your investment.
Using a Residential Plumbing Service
Now you know the top 7 advantages of using a residential plumbing service. They have more skills, experience, tools, and materials to get plumbing jobs done right. Plumbers also have proper licensure and offer guarantees to give you peace of mind.
You can contact us at Stallion Plumbing and Drains if you have more questions or to schedule services. We consistently deliver excellent plumbing work to the greater Salt Lake City, UT area.